ABOUT MATISSOFT
Our integrated management software package Matissoft ERP differs from other ERPs on the market. Finance, business management, maintenance, and data warehousing, integrated with the specialized modules of your market sector, will simplify your work while increasing your performance.
Let's integrate the best software to our ERP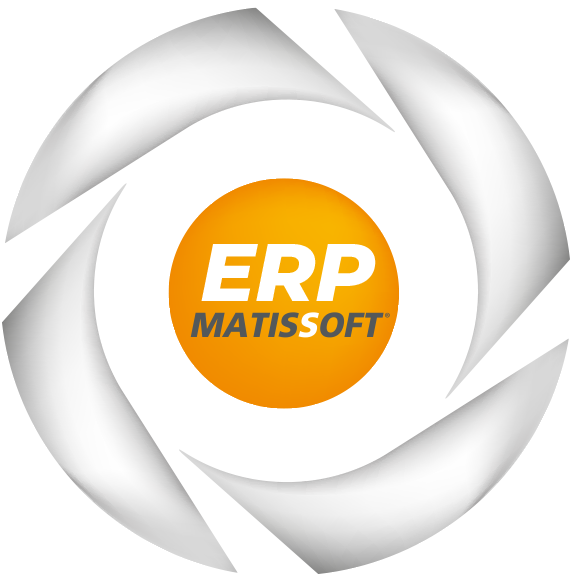 Here are Matissoft ERP's basic modules
You will be able to manage multiple companies, divisions, departments, warehouses, currencies, users, units of measure or languages, with this scalable and customizable software, designed to suit your specific needs. The Business Management module first manages the procurement process up until the confirmation of the vendor's invoice and imputation to the GL of the Finances module. The production of an account payable and payment are also systematically ensured.
Not only is everything you need there such as personalized key performance indicators (KPI), but you will also be able to import and expert data in many formats (Excel, PDF, XML, etc.).
In conclusion, what you get is incomparable versatility offering the below functions. All this, combined to the most complete and attentive after-sales services.
General ledger, payables, and receivables;
Complete financial reports;
Multiple budgets with revision and comparatives (actual figures vs. the budget);
Asset management;
Automated bank reconciliation, electronic payment;
Creation of dashboards and KPIs simplifying your decision-making;
Customization of displays according to each user's needs;
Intercompany/interdivisional automated transactions;
Possibility of temporary and recurring month-end entries;
Recurring invoicing management (purchases et sales);
Time sheet management;
Payroll management through information transfer, such as hours collected in time sheets, to your payroll system;
API connections and Web Services enhancing communications with other software when needed;
Security assignment conducted by administrators;
100% designed to support your company's needs and integrate completely with our MES production and our Management systems, as well as all our other modules (maintenance, breeding, delivery, recipes and labels).
Customer relationship management (CRM);
Sales: price lists, quotes, orders, deliveries, invoices, points of sale, and cash drawers;
Purchases: requisitions, orders, receptions, invoices, product expiration tracking, merchandise returns, etc.;
Inventory: catalogue of products, articles, ingredients, locations, quantities, kanban, etc.;
Production inventory recording;
Management of grain contracts;
Veterinary prescription management;
Electronic data interchange (EDI).
Predictive, preventive, and corrective maintenance;
Equipment inspection and planning;
Implementation of HACCP and GMP procedures;
Fleet of vehicles, buildings, computer equipment, etc.;
Manual, virtual, or automatic counters (talking to equipment);
Possibility of invoicing works to another company.
Coming in 2023
Access to decision-making information on computers, cell phones, or tablets
Cross-referencing and data mining between modules
Systemic traceability (comparative data)
Self-learning algorithm
Dashboard and customized notification
Performance indicator
Evolutionary report (client and use)
Security and confidentiality of data
Here are the specialized modules to optimize your milling and breeding operations:
Bestmix : The solution for your recipes, labels and quality assurance
With Bestmix, you will formulate your recipes (food and supplements) at lower prices, in a user-friendly and efficient way. With 100% customizable templates, the labels will feature your nutritional values and important information according to your regulations and standards.
We know the quality assurance of your production is important for you! With the help of defined rules, the inputs needed for production as well as the outputs delivered to your customers will be analyzed and compared in order to maintain your quality standards.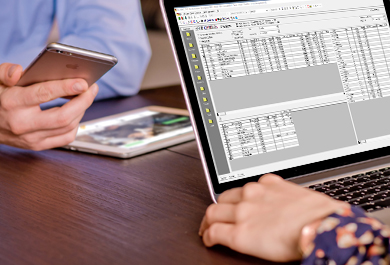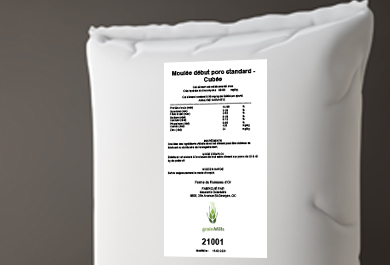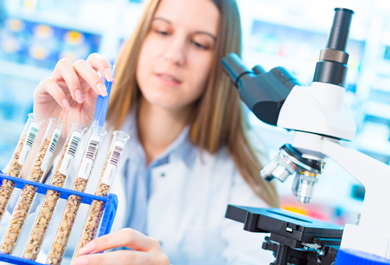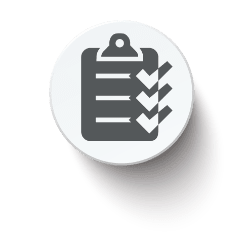 Recipes and Labels
Raw material management
Contribution of the ingredients in the nutritional values
Cost-effective formulation
Automatic processing of parent/child recipes
History of recipes, nutritional values and prices
Creation, history and printing of bulk and bag labels
Manage according to veterinary prescriptions and other constraints
Comparison of previous revenue prices
Quality Assurance
Integrated laboratory information
Definition of items and parameters
Sampling of humidity, dust, density, etc.
Connectivity with analysis instruments (NIR, analytical balances, etc.) and external laboratories
Reports and trend graphs on measured elements
Update of values in the formulation system
Do you want to automate your manufacturing process?
Are you tired of manufacturing without all the information/data at your disposal? The information you need to manage your operations will make a huge difference. Can you imagine making the best decision based on your criteria and agreements?
No matter the type and size of your facility, your production plants will be managed individually yet linked together:
Feed mill

Flour mill

Premix plant
Grain and transshipment center
Fertilizer center
Wood pellet
Manufacturer of food or products for small animals
Not only do we ensure the management of your production, but also, our software will efficiently manage all of your processes: raw material management, order placement, veterinary prescription, inventory management, traceability of events and ingredients, contamination and cleaning management, delivery management, etc. By choosing our solutions, you will get a supervisory control and data acquisition system (SCADA) integrated with a complete manufacturing execution system (MES).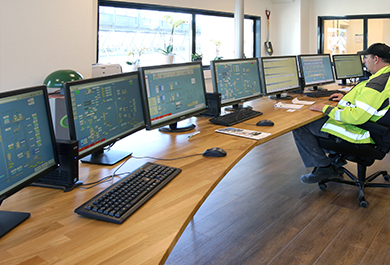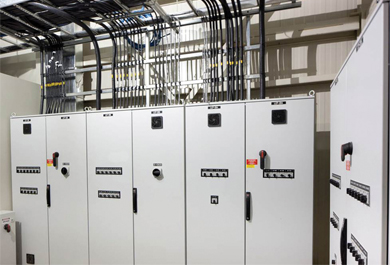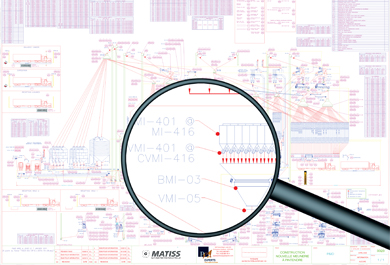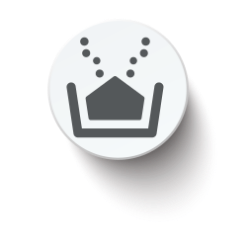 Process control
Complete process automation: from the reception of raw materials to the shipping of finished products

Receiving, grinding, batching, hand adds, pelleting, post-pelleting liquid application, bagging, load-out

Production optimization according to incompatibility rules (contamination) or compatibility rules (pelleting fines)
Raw material substitution according to species
Bulk, unit and warehouse inventory management
Complete traceability (forward/backward) of raw materials and finished products
Keep-full: automatic bin filling according to established priorities or unforeseen events
Fast-rebatch: optimized management of scales for consecutive batches
Validation of the dosing and/or incorporation of hand adds supervised by a predetermined list or barcode/rfid scanner
Completely automated bulk load-out, or assisted by truck driver
Individual equipment mode management (automatic, maintenance, stop), with traceability and history
Performance analysis tool (Gantt chart, trends, graphs)
Key performance indicators (KPI)
Production data export in PDF or Excel format
Optimizing your hog and poultry farming processes starts with Porphyrio!
Predictive breeding at its best! Data acquisition is quick and easy with or without a connection to your farm controller. To analyze and compare your farming, the Porphyrio software uses advanced technologies: big data, biostatistics, and self-learning algorithms. The predictive elements, linked to the algorithms, allow you to be proactive rather than reactive.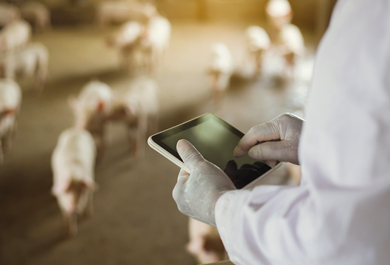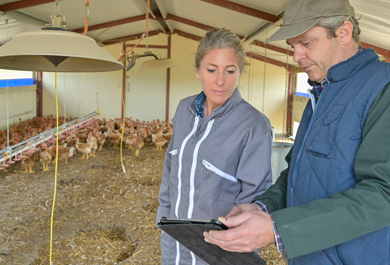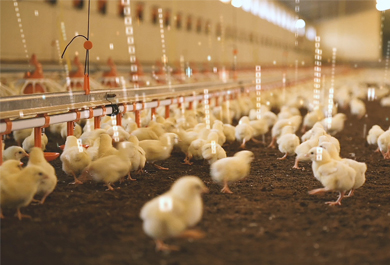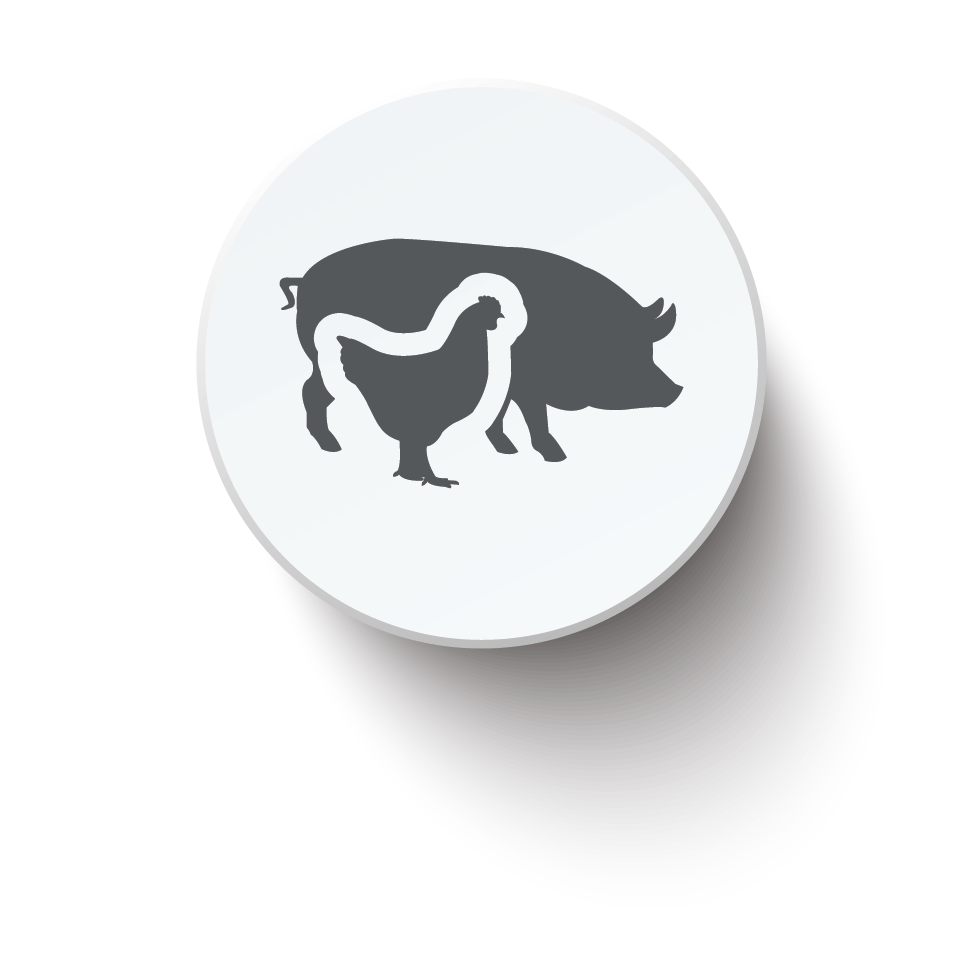 Livestock
Early warning and livestock management system
Integrated health management system
Supervision of quality assurance for work planning
Integrated process analysis
Inventory forecasting and feeding management
Production planning
Prediction of production and management of egg mass
Optimization of planning and prediction of slaughter weight
Customized reports
Agistics for your deliveries !
Agistics, delivery software designed for the agricultural reality!
Are you stressed by the uncertainty of a delay or a delivery time? Are you concerned about biosecurity? If so, Matissoft's real-time delivery solution will reassure you. From collected data, get a complete, real-time view of movements and related tasks. Your timetable will always be on schedule! Now is the time to replace ambiguity with certainty for each livestock transport or feed delivery, knowing that biosecurity measures are in place!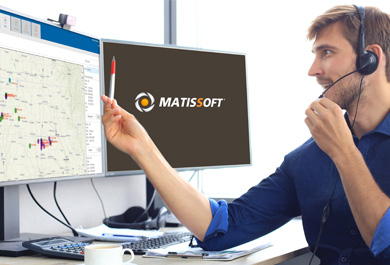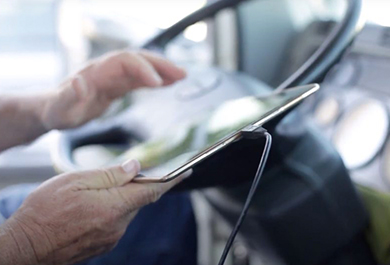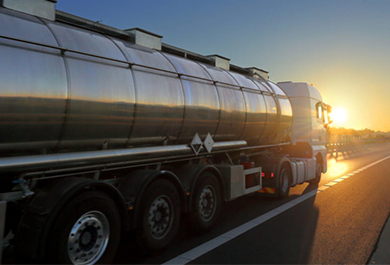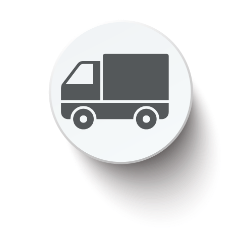 Delivery
Web or mobile interface;
Real-time map with cellphone and GPS technology;
Livestock transport
Schedule programming;
Cleaning validation;
Order traceability, from pick-up to delivery;
Risk area management: biosecurity, construction, bottlenecks, etc.
Real-time readjustment of livestock transport routes.
Feed delivery
Loading validation and review;
Logbook of delivery operations;
Milestone notifications: stops made, routes taken, unloading time, surplus feed report;
Confirmation of delivery in the correct silo (truck compartment vs. farm silo);
Risk area management: biosecurity, construction, bottlenecks, etc.
Real-time adjustment of feed delivery routes.