Matissoft
OUR AGRICULTURAL SOLUTION
Farmers, millers—all can benefit from it.
Finally, an ERP adapted to the agricultural world! No more duplication of information!
Matissoft ERP's integrated features and software for the agricultural sector will make you more efficient.
THE COMPLETE SOLUTION
Matissoft is a modular ERP software that interacts with other software.
It is a basic computer suite on which external software will integrate to serve your industries.
Highlights
Traceability at all times
Veterinary prescription management
Production inventory recording
Purchase and sale contracts
Added Software
Porphyrio for breeding
Bestmix for recipes and labels
Software for process control
DP Techlink, a solution for livestock transport & feed delivery
Let's integrate the best software to our ERP
The perfect situation is when all your software programs work together. At Matissoft, we look for the best software for your industry. When we find these tools, our company brings them together for you in a complete solution. What is the benefit? The different types of software specific to your fields interact together, not leaving anything out.
EXPERT ADVICE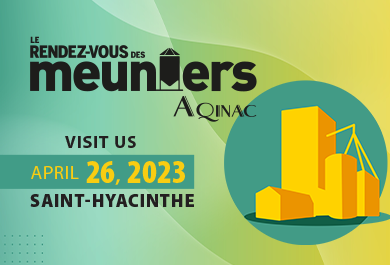 AQINAC will present its third edition of AQINAC's Rendez-vous des meuniers (The Millers' Meetup), which will be held in person for the first time on April 26 at Saint-Hyacinthe's Convention Center.
This brand-new business meeting aims to focus on the performance and optimization of feed mills.
Make an appointment now or come see us at booth #3 to discuss our new products with our experts.
See you there!
START YOUR CAREER AT MATISS
A team driven by a passion for technology!
Our strength lies in the diversity and complementarity of our jobs. There are several skilled trades at Matiss. Together, we design, manufacture, and bring to life systems that will allow our customers to become increasingly competitive.